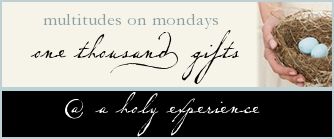 Counting my gifts today...
1. Three small bodies stuffed in snowsuits.
2. A counselor with a plan.
3. Some quiet time.
4. Hot vegetable soup.
5. Sunshine.
6. An uncluttered day.
7. Friends who pray and encourage me.
8. Shoulders to cry on.
9. My husband who helps me greatly.
10. Snuggling up with my children under quilts.
11. Bedtime prayers.
12. A place to worship freely.
13. Sermons preached with Holy Spirit Power that give hope and vision.
14. Rest
15. Piecing together puzzles at the kitchen table.
16. Patch
17. Telephone conversations with my Mother.
18. Anticipation of the week ahead...so much to learn and a field trip too.
19. A phone call from Kurt.
20. God's Word.
Blessed be the Lord, who daily loadeth us with benefits, even the God of our salvation… Ps. 68:19