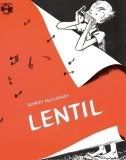 Last week we rowed Lentil by Robert McCloskey, and it has turned out to be one of our favorite Five in a Row titles. If you haven't read this classic, I won't spoil it for you, but let me just say that it involves lemons and puckering!
One of the FIAR lessons suggested a discussion about sweet, sour, salty, and bitter, and then making lemonade.
We talked about taste buds and sampled foods from each category. We wrapped it all up with this lemonade-making session.
Here is the recipe we used:
Ingredients:
-6 lemons
-1 cup sugar
-1 cup boiling water
-3 to 4 cups of cold water
Boil one cup of water. (This is a great time to talk about boiling point - 212 degrees)
Squeeze the lemons into a pitcher.
When water is boiling, turn off the light and add 1 cup sugar.
Stir until it dissolves. Then you'll have a sugar syrup.
Pour the sugar syrup into the pitcher with the lemon juice and stir.
Then add 3 to 4 cups of cold water and stir well.
The recipe said to store in the refrigerator for awhile before serving, but we just couldn't wait.
This made the best lemonade I've ever tasted, and I'm not exagerrating!
Squeezing
Stirring
Puckering :)
Sampling
We've got a winner!