I know that I've bragged on the
Homeschool Share
site in the past, but since it's been quite some time, I'd like to sing its praises once more. Everything on this site is absolutely free for you to download and use! The ladies over there (Ami, Cecilia, and Wende) have done a phenomenal job of writing unit studies and creating resources to go along with those units. They also organize the work of many others who have developed material and contributed it to the site. There are oodles of original literature-based units, animal studies, lapbooks, and much more to choose from. We are currently using several of their lapbooking templates in our bird unit. The thing that makes HSS so special is that it is a collaborative effort on the part of many homeschool moms who are giving of their time and talents to help lighten the load for everyone. Here is just a sampling of some of my favorite HSS resources:
Lapbooking Resources and Templates for Many Different Minit Books
Five in a Row resources
- This includes vocabulary cards, animal classification cards, games, and lots of other resources to complement the books in the Five in a Row curriculum.
Lapbook Index
- lists all of the lapbooks that HSS offers.
Animal Studies
- If you have any students who are animal lovers, then you have got to check out this section. You'll find many wonderful lapbooks and units, each based on a different animal.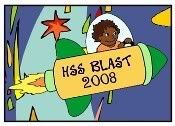 HSS is currently running their Back to School Blast contest. There are many categories in which you can enter. So if you want to try your hand at writing a unit study or creating original lapbooking resources or something else, visit the contest page (click on contest button above), and find a category that suits you! They're giving away some great prizes. I've finally decided to enter this year too. ;)
If you've never visited HSS, I encourage you to stop by. I think you'll enjoy your time there! :)