I've gotten a little bit behind with posting each day's book an ornament that we're doing for our
Around the Manger unit
. On Wednesday we read
Christmas in the Manger
by Nola Buck and illustrated by Felicia Bond. This is a little board book that I believe we've had since Superman was a baby. It's a sweet poem about the animals and other members of the Nativity. We also read a version of
The Little Drummer Boy
illustrated by Ezra Jack Keats. This carol and the old 1970's video version of the story have been favorites of Superman for a couple of years now, so when I saw this at Borders I had to bring it home.
Our ornaments for today were Mary and Joseph made from clothespins. I was never able to find any specific directions for making clothespin dolls, so I kind of learned by trial and error. This is what I came up with. (Warning: I am not a seamstress, so we used a lot of glue! LOL)
1. For each doll I pre-cut (with pinking shears) a rectangle of fabric twice the length of the clothespin.
I cut a small slit in the center so it would slip over the head of the doll.
2. I cut a small rectangle (maybe 2 or 3 inches) for Mary's headpiece (maybe 1 1/2 inches for Joseph's). Then I cut a tiny slit in the center of these and ran a piece of twine through and knotted it so that the knot would be on the underside of the head piece. I anchored the knot to the fabric with a dot of glue.
3. I had the children slip the large rectangle over the clothespin to make the robe. Then they ran a strip of glue down the front and back of the pin and pressed the cloth down. (We did the front and let it dry; then we did the back.)
4. Then they spread glue on the top, back, and sides of the head and kind of molded the headpieces to form around the heads. Make sure the knot is on the underneath side next to the clothespin. (Since there was more fabric in Mary's veil, we had to do some folding and gluing of pleats in the back of hers.)
5. Then they drew on faces with magic marker, and we tied them on the tree.
We had fun making these little dolls. Superman wants to make some that are wise men. (Maybe we'll save that for Epiphany. I know that our tree will certainly still be up then!)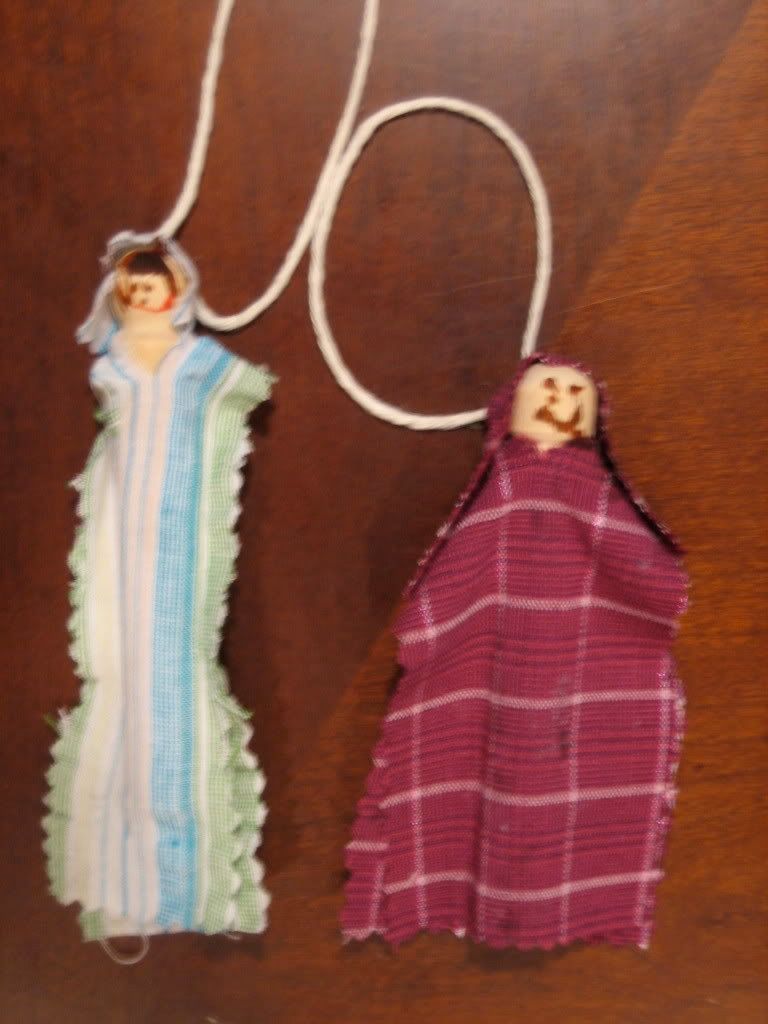 Have a lovely weekend!