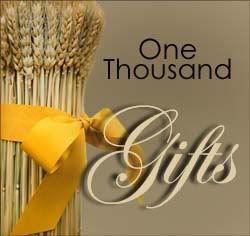 There is so much in my life that I tend to take for granted. I love the idea of the One Thousand Gifts List. To see in writing all that God has bestowed upon me, to marvel at His love for me, to take the time to give Him thanks for caring about the important things in my life as well as the not-so-important details - these are a privilege, and I pray that this list will be a blessing to anyone who might happen to read parts of it.
If you want to read more about One Thousand Gifts, click on the image above, and it will take you over to Holy Experience.
Here are my Thousand Gifts:
1. Jesus, Son of God, my Savior, the One who loves me at all times, no matter what, and who gives my life meaning and purpose.
2. My husband - he is my best friend, my lover, and a child of God. He is the loving Daddy to our children and a wonderful provider, and I absolutely could not ask for a better man!
3. Our three precious children: to know that God honored us by choosing us to be the parents of these three beautiful little ones is at times unfathomable to me.
4. My parents: They've always given me lots of love and best of all they introduced me to Jesus. They're also two of the best grandparents a kid could ever have!
5. Our church family: God lead us to our local body of believers seven years ago. They are truly our "family away from family", and God has used them to impact our lives in countless ways. We praise God for a pastor with a vision for reaching out to others, for living a life of radical faith, for dreaming big dreams and allowing God to do big things in our lives.
6. Being able to see my son run down the football field with the ball in hand and seeing the big grin of pure joy on his face even though they pulled his flag
7. For Giggly Girl's generous spirit and kind heart and the way she wants to snuggle up against me at bedtime.
8. For Sweet Pea's humorous ways and her contagious laugh.
9. The love of God's creation that I see growing in my children as they get excited over finding a leaf, seeing the moon, or finding shapes in the clouds.
10. My parents' desire to visit and help with the endless tasks around this house - not many parents clean up the kitchen for you each night while you ready the children for bed!
11. Hearing Giggly Girl tell me, "I love cookin' with you, Mom!"
12. Hearing Superman tell Giggly Girl, "Even though sometimes I get mad at you and say I don't like you, I really don't mean it. You'll always be my little Chinese girl." :)
13. Hearing Sweet Pea say, "Mama, Mama, pay!" (play) and "Dee-Q" (thank you) everytime you hand her something.
14. Hearing the older two ask if can they sleep with Grandma.
15. Waltzing with all three of them (one at a time) to Strauss' On the Beautiful Blue Danube and seeing the pure glee on their faces as I twirl them around the room!
16. Watching my hubby play baseball with Superman out in the backyard on a crisp, fall afternoon.
17. A hubby who eagerly goes on field trips with us when he can and joins in our schooling with enthusiasm and encouragement.
18. For hubby's wonderful schedule that allows him to spend so much time with us.
19. For the opportunity to just sit and play with my children this evening. (Thank you, Mama, for doing the kitchen once again for me this week!)
20. A fun and encouraging MOPS meeting last night - the tools of learning my family's love languages.