I have always loved being outside. Some of my favorite childhood memories involve being outdoors. We lived only a few blocks from my Grandparents, and we were able to spend a lot of time there. They had a wonderful, huge backyard, and my Grandmother had planted all sorts of beautiful flowers there over the years. I remember walking around her backyard picking daffodils, camelias, and lilies, digging in the dirt for rocks and other treasures, and finding caterpillars and watching ants at work.
My parents now live in the home that was once my Grandparents'. I have the opportunity to visit that same backyard now with my own children a few times each year. Many of the same trees and flowers are still there, and being there always brings back such happy memories. It thrills my heart when my little ones pick a bouquet of camelias from that same bush as a gift for their Grandma or when they are fascinated by a prickly pinecone from the same huge pine tree that I played under when I was their age. I am so glad that my children love being out in God's beautiful creation, and I want to cultivate that appreciation and love of nature together as a family.
The idea of Nature Study is one that I instantly connected with when I began reading about Charlotte Mason over a year ago - toward the beginning of our homeschooling journey. Almost anytime we are outside it seems that my kids are bringing us leaves, rocks, acorns, and other "items" of nature. And we've always enjoyed taking walks together as a family. But last week we "officially" began our nature studies. I presented Superman and Giggly Girl each with a nature journal and a clipboard with a piece of blank paper. I told them that we were going out in the front yard on a nature walk and that we each would find something that was interesting to us and draw it in our journals. Giggly Girl was enthusiastic and ready to draw, but to Superman this did not sound like fun! I had anticipated this simply because drawing nor writing have ever been activities he has enjoyed. So I told him that I had never done this before either, and that it might seem hard at first. But "practice makes better", so the more we do it, the more fun it will be for us. He was more willing then, and by the end of our searching, drawing, and coloring, he was warming up to it a little bit. Here are pictures of their very first nature journal entries: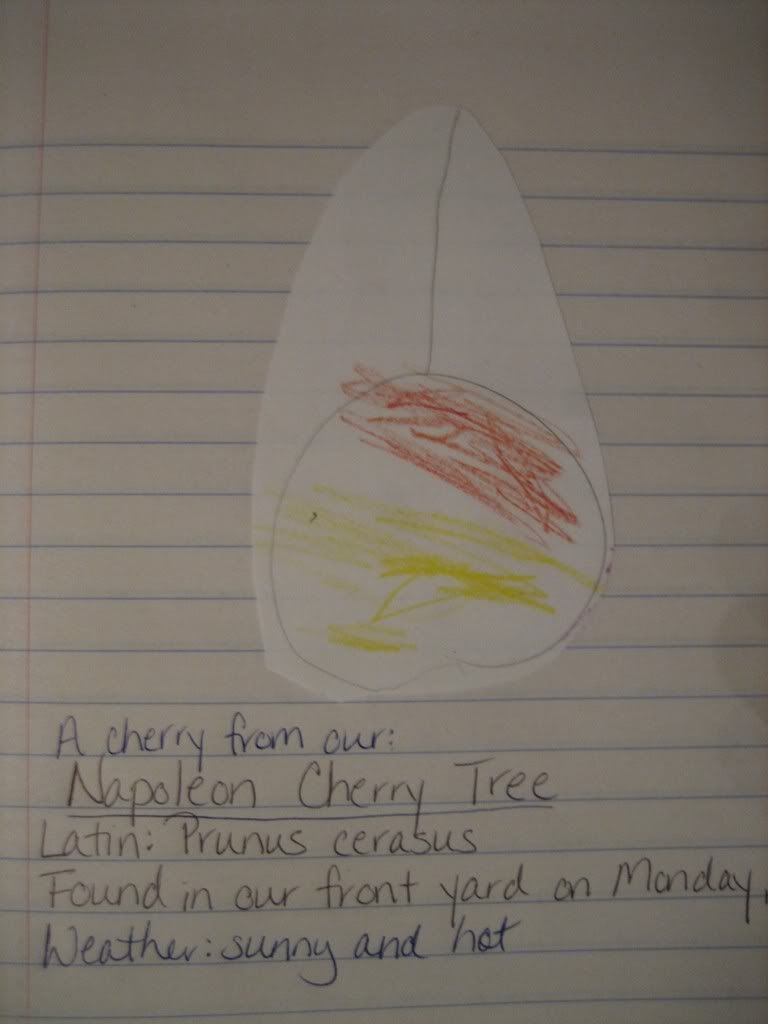 Giggly Girl's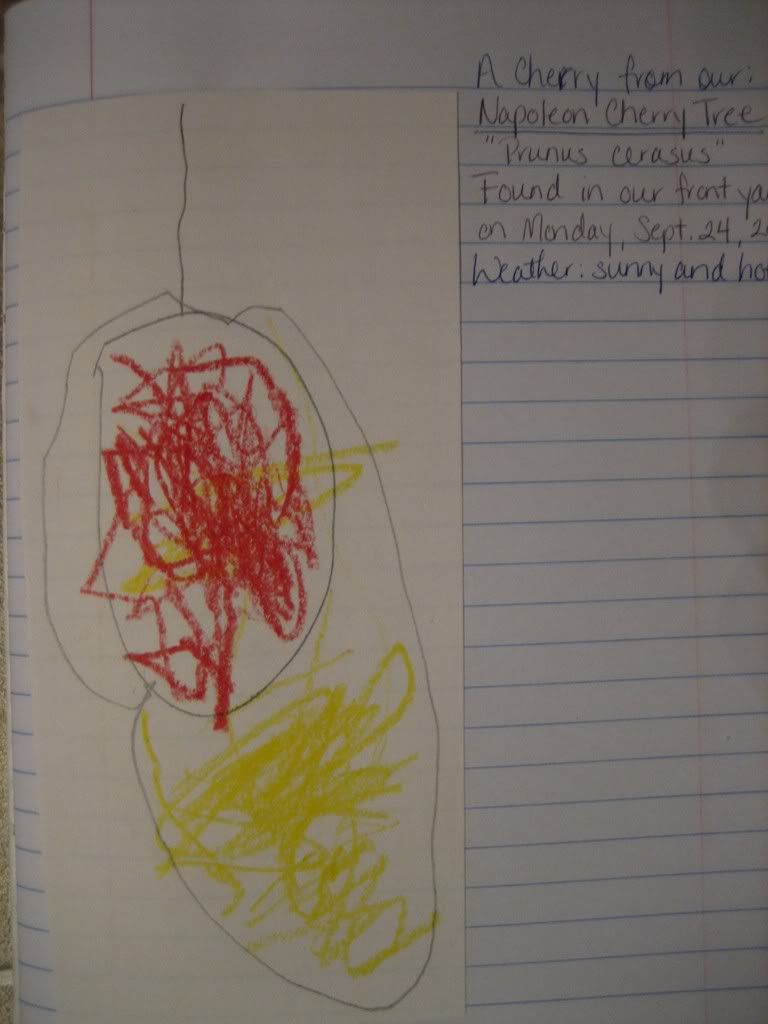 Superman's
They drew their pictures on the clipboard while we were outside. Then we brought the cherries indoors, and they colored them at the table. I cut out their drawings and taped them into their journals. We went online and searched out the cherry on Google images until we were able to identify it. I wrote the name of the tree, date, location, and weather next to their drawings.
Today we went on our second nature walk and were able to use beautiful journal pages from this Fall Nature Study Adventure, a new resource by Jane Claire Lambert of Five in a Row. We just drew our entries onto Jane's pages, and they will be taped down in our journals. I don't have pics. of today's entries yet but hopefully will be able to post them tomorrow. I highly recommend this wonderful resource. It is chock full of lovely art work and graphics, inspiring autumn poetry, and lots of terrific ideas to spice up your nature study. No, I'm not being paid to advertise this, but I have enjoyed this book tremendously and have been so inspired by it that I just had to share about it here!